2016 Greater St. Louis Area Messier Marathon 

Saturday March 5, 2016 (weather related backup date March 12, 2016)
All good stories cover the who, what, when, where, how, and why.

Who's this Messier Marathon for?
This Messier Marathon is open to any and all observers with no fees required.  You need not be an ASEM member to participate.  To complete the project you should be a somewhat experienced observer and must bring and be responsible for your own equipment.   No loaner equipment will be present.  Other participants will be busy using their own equipment so you will be unable to share.  You should be experienced enough that you know how to star hop from object to object.

You may choose to image the objects or view them with a telescope or binoculars.  You will have trouble seeing all the objects with binoculars.  While not a private event, it is NOT a public viewing session, but rather an opportunity for personal observing, growth, learning and fun.   If you are interested in public viewing please consider attend one of SLAS's or ASEM's regular public sessions as described on their webpages. 
Registration in advance is not required but your doing so will enable us to make better plans for the event.  We do have a registration form that allows us to collect information for planning and last minute news.  Please complete this form if you are interested in getting last minute information on the status of the Marathon or would like to provide us with information about yourself.   Completing the form will give us an idea of how many people we will be dealing with.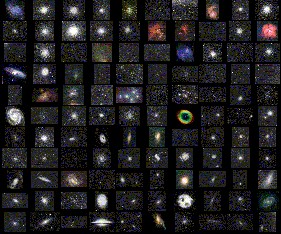 What's a Messier Marathon?
Charles Messier was a comet hunter in the late 18th and very early 19th centuries.  He developed a list of objects to avoid while hunting comets.  The list must have worked, because during his lifetime he discovered over twenty comets.  Today his list is called the Messier List and contains most of the brighter deep sky objects that interest amateur astronomers.  The 110 Messier Objects dominate viewing at most public outreach sessions and can be recognized with names starting with the letter "M" as in M31, M42, or M45. 

A few times during the year the positions of the sun and moon are such that most of the Messier objects are visible in a single night.  The sun needs to be in a position that doesn't block out objects and the moon needs to be near New so it doesn't overwhelm them with light. 

This Messier Marathon is scheduled so that a careful and persistent observer can find and view approximately 106 of the 110 Messier Objects in one very long evening, from sundown until sun rise.  With 110 Messier Objects and 11.5 hours of darkness, you'll spend about 6 minutes per object, a truly busy night.
When's this Messier Marathon?
This Marathon is scheduled for the night of Saturday, March 5th from 6:30 p.m. until Sunday, March 6th at 7:00 a.m.  The 6:30 p.m. starting time has been selected to give the observer time socialize a bit and set up before dark.  Arriving after dark when others have started observing is discouraged since it will spoil dark adaptation.  Arriving late will not make you popular with the crowd.

This particular date has been selected because the new moon will be on March 8th.  With the Moon rising at almost 4 a.ma and only 15% full it will effect only the last objects of the night.  A weather related backup day is scheduled on Saturday, March 12, 2016 but the Moon will be in an even more unfavorable position for early evening objects.  In the event of a poor weather forecast check the "Latest News" part of ASEM's webpage for last minute changes.  
   


U

.S. Naval Observatory data for Broemmelsiek Park:

. 
St. Peters, St. Charles County, MO (Longitude W90° 38', Latitude N38° 48')
Saturday, March 5, 2016     Central Standard Time
Sun
Begin civil twilight      6:02 a.m.
Sunrise   
6:28 a.m.
Sun transit   
12:14 p.m.
Sunset   
6:00 p.m.
End civil twilight
      6:27 p.m.
MoonMoonrise   
3:54 a.m.
Moon transit   
9:10 a.m.
Moonset  
2:28 p.m.
Closest Primary Moon Phas
e:
New Moon on March 8, 2016 at 7:54 p.m. (local standard time)
Phase of the Moon on March 5, 2016:
Waning Crescent with 15% of the Moon's visible disk illuminated.





Where's the Messier Marathon going to take place?
The Marathon will take place at two locations based on the observer's choice:  Broemmelsiek Park in St. Charles County AND Danville Conservation Area in Montgomery County.  The main effort will be at Broemmelsiek Park and you may be on your own under Danville's darker skies.   Broemmelsiek is about 4 miles from the Winghaven/DD exit on I64.  Danville is about 6 miles from the Highway 19/I70 Herman exit (about 1 hour west of St. Louis).  Observers in SLAS and ASEM have been using these public locations for years.  Maps to both locations are presented below.  Both sites do have cell phone access but neither site has public Internet access.


Make your choice of location based on information presented below and dialog that you'll see on the STLAstronomy Yahoo group.


 
      Broemmelsiek Park
 
      Danville Conservation Area
 


Advantages

close to town/minimal drive time to and from the park

electricity for telescopes, computers, warmers,coffee makers
rest rooms
water
the observatory as a warming room if needed

 

good horizons all directions
darker sky
little or no drive by traffic
set up by your vehicle




 
 
 



Disadvantages

Friday Night Open House means Saturday night only
poor eastern horizon for last few objects before dawn
objects can be difficult when below 45 degrees in the east
headlights from cars on Schwede and parking lot
lights from houses in the neighborhood
drop ins early in the evening wanting views
light pollution limits dim object--Virgo cluster may be difficult without larger aperture
carry/tote equipment to pads as much as 100 yards from the parking lot


 

limited parking
long drive--some won't want to go that far
bare bones--no facilities--no water, restrooms, etc.
gravel road the last mile
a long way to go if you're not sure a Marathon is your thing


 

Bottom Line

Smaller aperture scopes will have trouble seeing the dimmer Messier objects but it is a good "starting" location for your first Marathon.  You'll have a better chance of surviving equipment errors and the cold here. 

 
You must be self-contained from drinks, food, and layers, to batteries for your scope, red flashlight and any personal devices and it all must last all night.  You'll need to plan multiple backups on all systems since you'll be observing for more than ten hours.  The "big" scope owners and images will probably be here. 

 
 

 
 



Click to enlarge or download either map.

You may wish to make the decision about your location on the day of the Marathon based on the weather forecast.  You need not worry about telling us which site you wish to attend.

How do I find the Messier Objects?
This St. Louis Messier Marathon is a personal project so you may choose to use any method you wish.   Feel free to use any method you wish from a GoTo telescope to find all objects all the way to doing the Marathon with a manual telescope while finding all objects entirely from memory.   No matter what method you use, you will need to do some prior planning including knowing the best order to view.   Observers may use a variety of means to locate objects including memorizing positions, using binoculars, books, computers, the internet or star charts for star hopping.  The use of setting circles, either analog or digital is also permissible.  Once again, GoTo telescopes can also be used.

Helpful Links:


| | |
| --- | --- |
|  Two excellent sources for the suggested order are: |  A good way to navigate the sky to find the Messier Object with a telrad: |
| | |




We can't stress strongly enough the need for you to bring either a paper or electronic list with the order you'll use to find the objects as the night progresses.  Attempting to follow Messier's order of M1, M2, M3 would be to lead to certain failure since the objects are scattered all over the sky in no apparent order. 


SkySafari users can find SkyList for the Messier Marathon in the download section at the bottom of this page.




Why do a Messier Marathon?
Plain and simple...for FUN and the experience.  Observing for a few hours at a time in good conditions is easy.  Observing for an entire night in less than perfect conditions is a challenge for your equipment, your methods, and yourself.   


Your observing activities will not go unnoticed; there will be awards in recognition of effort.  People observing or imaging 50 or more objects will receive an 8 1/2 x 11 certificate to be presented on the spot.   Do less than 50 and you'll still probably get one anyway!

Feel intimidated?  Don't think you can reach high counts?  DON'T WORRY!  ENJOY!

Set your own goals and don't bother with those high counts.
The marathon is for having fun and improving your technique!
Set your goals in order for you to learn and have fun!

The guidelines are pretty simple, please read them over if you plan on participating.

It's an honor system.
No one is going to be looking over your shoulder to verify your observations.
Have an observing list to check off your observations as you go.
Find an object.
Observe/image it with your eye through the main eyepiece of your telescope.
Mark off the entry.
Go to the next object.



More Marathon Information

Don't have the time to see all 110 objects?  Consider doing a half Marathon and leaving around 1 a.m.
ASEM member and don't have a scope?  Consider using the C14 or Jones-Bird or other loaner scope

Check the forecast low for the evening in advance and dress accordingly with a hat, gloves and many layers on both your top and bottom.  Cold feet can make you miserable really quickly.  If you get cold during the Marathon walk around for a few minutes to generate some heat.   If you are at Brommelsiek bring a heating pad.

Bring snacks to keep your engine going.
It isn't to unusual to take a catnap in your car during the middle of the night to recharge your batteries. 
A description of the object is not necessary, especially since it will take precious time needed to find the remaining objects--remember you should average about 6 minutes per object.
A Messier Marathon does not lend itself to the Astronomical League's Messier Observing Program... with the AL's Program you study the object and make notes, with the Marathon it is more a "yep, it's there and I saw it" thing.
Study the list sequences, or use your own.  Be prepared for the extremely likely case it should become cloudy and the selected sequence cannot be followed.
Although it is possible to do the Marathon with a 4-inch or smaller telescope, or binoculars, it is not suggested; unless you are an experienced observer.  Broemmelsiek users  will probably will need bigger scopes to get all objects.

Plan on arriving at the site at least 30 minutes before sunset to provide time to setup your telescope and for it to reach thermal equilibrium. This will also give you time to meet old friends and make new ones.
If you are NOT going to stay all night:

Park near the entrance so you don't disturb others when you depart.
Please give a shout a few minutes before leaving and then again as you are about to depart.
This will give observers time to hide so the light doesn't interfere with night vision.

Please ensure your red filtered flashlights are in good working order and PLEASE no white lights between sun set and sun rise.

For more information on star party etiquette click here: https://sites.google.com/a/asemonline.org/asem-intranet/broemmelsiek_requests
Know how to turn the interior dome lights in your car off and please do so before dark.

Once again, registration in advance is not required however we do have a registration form that will allow us to collect information for last minute news.  Please complete this form if you are interested in getting last minute information on the status of the Marathon or would like to provide us with information about yourself.
Thanks for looking and hope to see you there.